Many of us Fremont-ers treat Mission Peak as our Mt. Fuji.
Wherever we go we have our own "Where's Waldo?".
This view is from Sabercat Creek.
I really love the
Thirty-six Views of Mt. Fuji
. Each picture has Mt. Fuji in it somewhere, either prominently or somewhat hidden. When you look at each picture, it's like looking for a friend in a crowd or .... a "Where's Waldo?" game!
Here we are heading straight toward
Mission Peak
on Mission Boulevard.
I grew up in a landscape with few trees and with a bumpy landscape, so I use local mountains or peaks to help me orient myself. In Fremont, I use Mission Peak. Lots of times, I will be driving along Mission Boulevard or Highway 880 and the car will be pointing right at the peak.
If this were the turn of the 20th century, say 1918, I would think that the road was made to head toward the peak in order to get to Mission San Jose. Perhaps early travellers on Mission Boulevard might have used the peak. I'm not sure our roads reflect that any longer.
Where's Mission Peak?
On hikes and errands about town we can often see Mission Peak. I will start stuffing my peak photos here in this post. Eventually I will create a map for my "Thirty-six Views of Mission Peak".
#1 From Home Depot pick-up
#2 Mission Peak is in the center.
From the Welch Creek to Flag Hill Trail
in Sunol Park.
#3 Mission Peak from Vista Grande Trail.
The yellow violets were blooming.
April 16, 2014
#4 Mission Peak from Tri-Cities Rock
#5 Mission Peak from empty lot near REI
April 12, 2014
#7 Mission Peak from trail to Flag Hill from Welch Creek Road.
#8 From Pleasanton Ridge,
Mission Peak is snagging some fog.
#9 Stick Man pointing to Mission Peak from McGuire Peak trail.
#11 Mission Peak is just off the left.
But who wouldn't want this pre-GM pre-Toyota pre-Tesla photo
in their Thirty-Six Views of Mission Peak?
from Calisphere.
#13 View of Mission Peak off in the distance from the hills of Dry Creek/Garin Park.
This day it was dry dry dry with lupines blooming and the Hayfield tarweeds starting out.
Acmon blue streak butterflies were prolific on one spot of the trail.
The Girl Scout day camp was behind us off in the distance at Jordan pond.
September 4, 2014
parched hills of Garin Park
Mission Peak is off center to the right.
fdd
January 5, 2015
Behind Mt. Tolman at Dry Creek.
Mission Peak is faintly in the distance.
dfd
#15 From Sabercat Creek Park on hot hot day
#16 Highway 680 crossing Sunol Valley.
Mission peak bisected by crack in windshield.
#17 From second floor of main library, Fremont.
July 31, 2014


#20 From Fremont Hub Target parking lot.
Mission Peak had some clouds atop.
July 31, 2014
#21 From Google maps.
The red pin is where Google maps says is the peak.
You can see the slide really well because
the picture was taken when there was some green grass.
#22 From edge of Niles square.
Mission Peak was really hard to see, because the trees obscured the view.
You can just see it to the right of the flag pole.
Time of day was right before the Essanay Theater opened for ticket sales.
Movies this night were "Mabel's Married Life",
"Frozen Hearts", and "When the Clouds Roll By".
#23 December 21, 2013 Winter Solstice.
Augustin Bernal Park, Pleasanton.
Mission Peak is in the distance.
#24 Telegraph weed at entrance to Sabercat Creek Park.
Mission Peak in background.
#25 Bill loves Debbie.
Entrance to Sabercat Creek.
8/21/2014
#27 Mission Peak framed by Target target.
The previous time that I visited target,
someone was sitting in this circle.
August 30, 2014
#28 What a wonderful sight to see at the top of the hill at Pleasanton Ridge.
Someone had kindly left a plastic bag for the thirsty dogs.
We drank 4 bottle of water this day.
The dogs we met on the trail were panting madly.
September 14, 2014
#29 Mission Peak seen from the olive grove at the top of Pleasanton Ridge.
The vinegar weed is happily blooming and not too much else.
September 14, 2014
From Quarry Lakes #30




Fremont BART
Bayfair BART
You can still see if if you enlarge this photo.
From Quarry Lakes.
Toyons are very beautiful today, December 12, 2015
Famous photogapher, Dorothea Lange, took this photo of a pea-picker camp in 1939.
The photo says "near Milpitas". However, if you have looked at Mission Peak for years,
you know this mountain very well.
As best as I can tell, this was taken North of Automall Parkway somewhere in the neighborhoods.
There are too many houses to tell for sure.


This says "Mission Peak, About 2700 feet high, Res. & Farm of H. Curtner, Harrisburg, Alameda County California"
From "Thompson & West 1878", available in local libraries and David Rumsey maps.
Garin Park. Mission Peak is in the distance at end of ridge.


2/26/2016 The gridlock that has become Fremont during commute time.
Can't mistake that little peak for anything else!
From 1893 Illustrated album of Alameda County, California;
its early history and progress
--agriculture, viticulture and horticulture
--educational, manufacturing and railroad advantages
--Oakland and environs
--interior townships
--statistics, etc., etc
Aside:
Little Bart says that there is a band that you can wear (
Northpaw
) that will give you a little shock you when you turn north and eventually your brain will learn where that is. Now that she is on the East coast where there are trees everywhere, no mountains, people must have to use the sun to get oriented. Or do they get lost a lot?
Poor over-used and eroding Mission Peak!
We used to go up to the top of Mission Peak, way back before it became popular, really really popular. It's pretty sad the state that it is in from the hoards of people who go up to the top. I have to say if you are looking for some good "up" hiking, Mission Peak is good for that. Yet there are more interesting places to go and I'm a little glad that all of these people don't go to those other places.
Where are all those people coming from? The park is posting signs for people to park elsewhere and to hike elsewhere. I see that the
EBPRD has suggested other hikes
.
#E.002 This is one of the many signs asking people
to not erode the trails.
Mission Peak in the background.
#E.003 One of many signs warning people
to bring water for their dogs and themselves.
Mission Peak is framed by the sign.
#E.004 Another effort to keep people from
going off trail.
Yup, that's Mission Peak back there.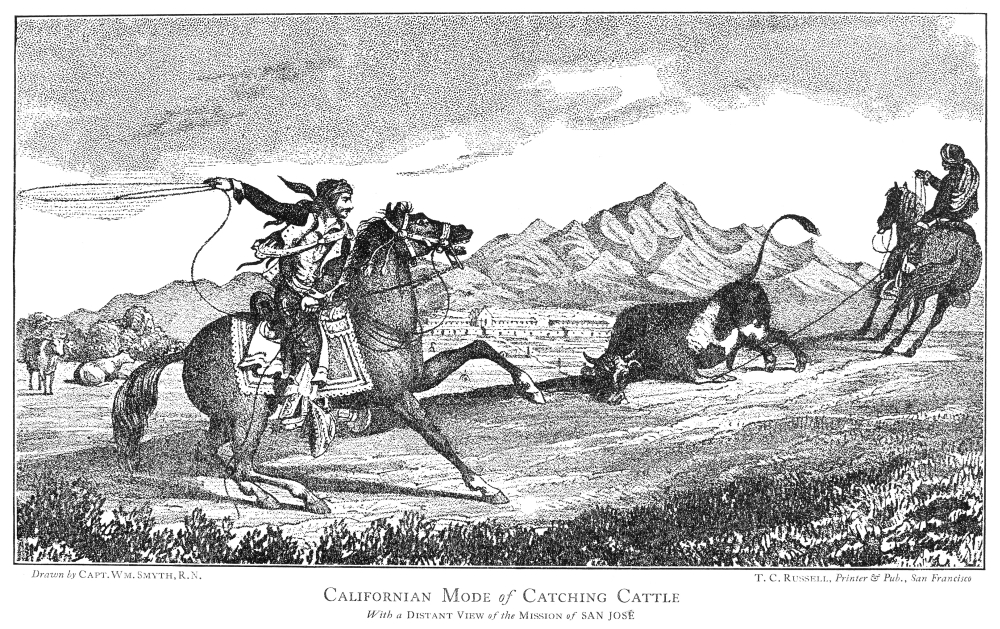 Never seen this one. "Californian Mode of Catching Cattle"
Drawn by Capt. Wm. Smith R.N.
T.C. Russell Printer & Pub., San Francisco.
It's from this book and is in color, 1839
"

California: a history of Upper & Lower California..."
Mission Peak Slides
And how about that slide on Mission Peak? One never stops checking it out to see if it has moved some more. In this drought, not much is happening.
GEOLOGY, GEOMORPHOLOGY, AND LANDSLIDE PROCESSES OF THE EAST BAY HILLS, SAN FRANCISCO BAY REGION, CALIFORNIA , David Rogers and Christopher S. Alger
OVERVIEW OF THE 1998 MISSION PEAK LANDSLIDE, FREMONT, CALIFORNIA, J. David Rogers and Patrick L. Drumm
Masters Thesis on "Rock slope kinematics of the Mission Peak Landslide, Fremont, CA", Michael Jurasius, 2002
Mission Peak has a wikipedia page with the landslide.
The Hayward Fault, a field trip along the fault, Doris Sloan and Donald Wells
Picture of Warm Springs/Mission Peak with slide on left? 1860/1870
Another View of Warm Springs, 1860/1870
Thompson and West have a view of the Curtner Residence showing Mission Peak 1871 and also the Rankin Residence.