Bouquet collected in April 2017.
A year and a half ago, I found a Niles Cochet rose in the
Morcom Rose Garden in Oakland
.
The Niles Cochet is a fairly large bush, maybe two bushes, about 7 feet tall and 4 feet wide. The rose garden label credits the California Nursery Company, 1906.
The Niles Cochet rose is a sport of the Maman Cochet rose and was introduced by the California Nursery Company.
I checked on the rose bush today, December 10. From the corner of Oakland and Olive, if you walk down the stairs to the garden, it is directly on your left.
The roses are pretty pooped out in December.
"Niles Cochet (Red Maman Cochet) California Nursery Co. 1906, Tea"
July 29, 2015
Sightings of Niles Cochet roses
San Juan Bautista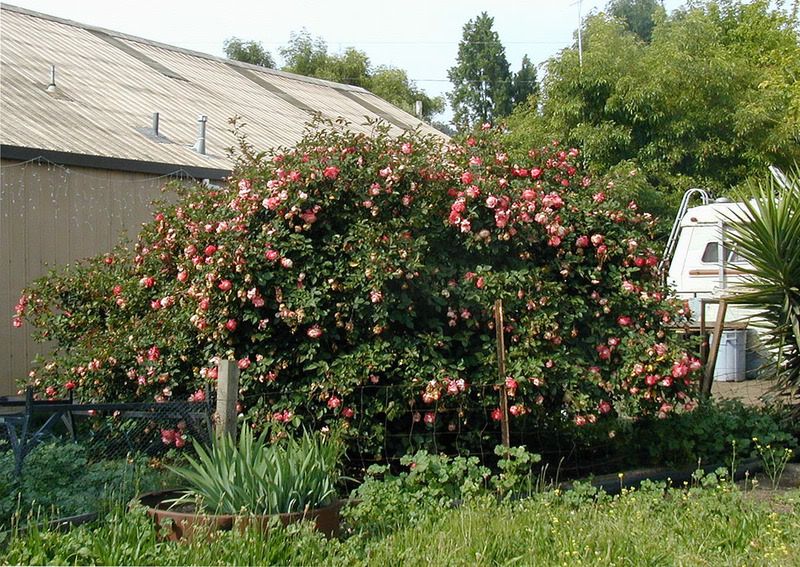 Found this picture on Garden Web. Jeri Jennings posted this picture of a rose in San Juan Bautista
Will replace when I get my own photo!



















San Diego
One of the San Jose Heritage Rose Garden's Niles Cochets says that it is from Huntington Gardens, but a Shinn volunteer could not find one, even after asking.
One of 4 suspected Niles Cochet bushes in the garden.
Our NC might have come from Tom Liggitt.
This one has less yellow than the bush shown.




November 2, 2015
Historical References:
California Nursery Catalog 1906-1907
does not list the Niles Cochet. It has the White Maman Cochet, Yellow Maman Cochet, Mad. S. Cochet, Red Maman Cochet, Pink Maman Cochet. Perhaps the Red Maman Cochet is what will later be called the "Niles Cochet". (Indeed it is!)
The Florists' Review, 1919, has an ad for Niles Cochet and it cross-lists Red Maman Cochet as Niles Cochet.
Roses for All American Climates
, 1924
Add caption
California Nursery Catalog 1919
has Niles Cochet listed in Tea Roses on p. 64.
California Nursery Catalog 1921-1922
has Niles Cochet listed:
Maman Cochet, Red (Niles Cochet, T.; California Nursery Co., 1906.) Cherry red on outer petals, lighter within. A sport from the popular Maman Cochet and a far better rose. The pink of the latter is replaced by a bright red, which at some seasons becomes decidedly brilliant. The flowers are just a trifle smaller. Stems are better, carrying flowers fairly well. It is a remarkably free bloomer, particularly in the fall, at the very time when its color is at its best. Succeeds splendidly as a "standard" as well as in bush form. A remarkably strong grower.
California Garden, January 1923
, "Roses for January", E. Benard, Niles Cochet
Rosemont Nurseries, Tyler, Texas
, Niles Cochet, 1931?
Armstrong Nurseries,
Ontario, California, 1918, Niles Cochet
American Rose Annual
, 1919 "
A Partial List of Roses Introduced in America
", Niles Cochet, and some very interesting topics (Frank N. Meyer's rose contributions (
Rosa xanthina
(some sent to Chico)
, Rosa odorata
), Portland's new garden, Texas test garden, Wayside Roses in France, Charles Totty, "
Where Are our Roses Coming From?
" US vs Europe with mention of CA.)
Miss Ella V. Baines, Ohio
, Spring 1927
Where can you find a Niles Cochet today?
The University of California Berkeley Botanical Garden has the Niles Cochet in the tea rose section of their rose garden. The San Jose Heirloom Rose Garden has the Niles Cochet.
Rogue Valley Roses
sells the Niles Cochet (Red Maman Cochet).
The Niles Cochet is listed in the 2010 sale catalog for the
Sacramento Historic City Cemetery
. "Vigorous, continuous-blooming, and (once-established) drought-resistant, this survivor shows up
in old gardens and deserted cemeteries across California." Sounds like a winner to me. The group who sold it was the
Heritage Roses Group
and rose rustling is their game.
HelpMeFind lists the Niles Cochet
. It has a
picture
of a very large bush next to a gas station in San Juan Bautista.
Someone has marked a Niles Cochet in San Jose at the corner of
Minnesota and Bird
.
Surely the Niles Cochet is somewhere in Niles still! I believe that I have found it. Will confirm in the spring.
What is the Niles Cochet?
100 Old Roses for the American Garden
includes the Red Maman Cochet rose. The author has found the Red Maman Cochet rose in the Sierra foothills, New Zealand, Australia, and Bermuda. Her parentage is "
Marie van Houtte
" X "
Madame Lombard
". Scipion Couchet was the hybridizer in France.
A Rose by Any Name
says that "Niles Cochet" was identified as "Aunt Jane's Mystery" for a time.
Pacific Horticulture article,
Tender but Tough: the Old Tea Roses
, mentions the "Niles Cochet".
Was this the Niles Cochet in Pennsylvania?
It was named the Red Maman Cochet for a while but this picture doesn't look like it.
Pruning the Niles Cochet
Here's an
article
on pruning Maman and Niles Cochet.
Miscellany
From the HRG website, there is a link to a
video on old roses in the Santa Cruz area
. Many interesting old roses are mentioned, including an old rose at the Villa de Branciforte, that was planted at the old adobe there. It was commonly planted in gardens in the 1800's by the spanish and has a funny name, "Little Red Runaround".
From the
1919 California Nursery Catalog
, these photos: